You can't expect to meet the challenge of today with yesterday's tools and expect to be in business tomorrow. – UNKNOWN
At this point we as business owners know that you MUST have a website to compete or even be relevant. How many of us believe that websites are for professional branding vehicles? How many of us know that if your website isn't generating you motivated buyers and sellers it isn't earning its keep? How many of us know that you can and should be making money on your website, gaining motivated sellers and buyers, all while properly presenting yourself as a high caliber professional with the ease of use, eye catching design and relevance?
If you didn't know that your website is a branding vehicle, and one that not only gives you leads but cultivates those leads into paying clients, now you know.
However, everything you do is being scrutinized by your potential client – to ensure you gain that client, and continue to work with their referrals in the future, you must do what you can to earn their business. Where do you start? Your business's website of course!
THE CHALLENGE
Your website should be the bridge to building trust, not the wall of separation.
Hiring a professional web developer is costly – upwards of $10,000 for custom made websites. So many business owners choose to work with cheap, cookie cutter systems. They set it and forget it, and never utilizing the tool for all its worth.
But if the website truly is the bridge to building trust and thus closing more deals and gaining more customers, shouldn't you then ensure your website is doing just that, building trust?
THE OPPORTUNITY
Where does building trust begin? Like first impressions, your website must give a great first impression in order for your potential client to give you a chance. Your site needs to have a professional, up to date look that lends credibility to your image and brand.
Secondly, you must have a 'give and take' approach. Give the home seeker and home seller what they want, timely real estate information, in exchange for what you want, their contact information.
In the book "Shift" written by Gary Keller, he outlines the home buyer and sellers' wants and needs in the explanation below.
Buyers want the ability to search all the homes in an area (Internet Data Exchange searches or IDX), they want to get instant notifications on properties that meet their criteria (buy instant notification or BINs) and save search criteria for future visitors (search savers). Besides those tools, they are also looking for information on communities, neighborhoods, schools and the home-buying process.

Likewise, sellers want to know how much their home is worth (a home valuation or CMA request form). As for content , sellers want market statics and information on home selling process. You must meet or exceed buyer and seller exception in there areas or they'll go elsewhere.
Although not all business owners are in real estate, the example outlined above can work for all industries. Give your website visitors what they want (a coupon code, a 5 step guide to growing natural hair etc.) and they will give you what you need (their contact information).
THE CREATING A CLEAR AND DIRECT PATH
Now that you know what home buyers and sellers want and need. Let's talk about the path to get them to your site.
The goal is it to think multi-channel marketing.  For the most traffic to your website, use bother online marketing and offline marketing as well. The key from their is to make sure your online and offline marketing complement each other and all lead to one place, your website. From there, you capture their information, and close them to an appointment, consultation or store visit. For example, you can boost a blog on facebook, send a postcard and create an ad all leading to your website. Just make sure you have the same message throughout each touchpoint or campaign, i.e. a new listing, grand opening, or quarterly report.
Easy as that.
"CAPTURE, CONNECT, CULTIVATE AND CLOSE"
Now that you have traffic coming to your website, the question now is, how do you capture their information once they have arrived to your website? What your potential clients expects to see on your website, such as IDX and content walking them through the real estate process, is referred to as "thin bait" per Gary Keller. Once on the potential client is on your website, you need to give them "fat bait" in exchange for their information. Detailed information on the community or neighborhood, virtual tours for Realtors and lenders, and valuable information such as market reports, and checklists are considered "fat bait." They are compelling and valuable – the more value you give, the more they will trust you.
Once you have their contact information, your customer relationship manager (CRM) will capture their information, and you should have a follow-up sequence prepared to reach out, cultivate a relationship and eventually close to an appointment, a consulaton or etc. A great, easy to use and free CRM that we use here at BlkBld.Net is hubspot.
So there you have it. To gain trust is to have a website that gives potential buyer and sellers what they want and need in exchange for what you want and need. Once you have their contact information, the ball is in your court – follow-up, follow-up, follow-up until you close to an appointment. Then follow-up, follow-up, follow-up until you close the transaction.
Below is a diagram that illustrates this path from Gary Keller's book, "Shift".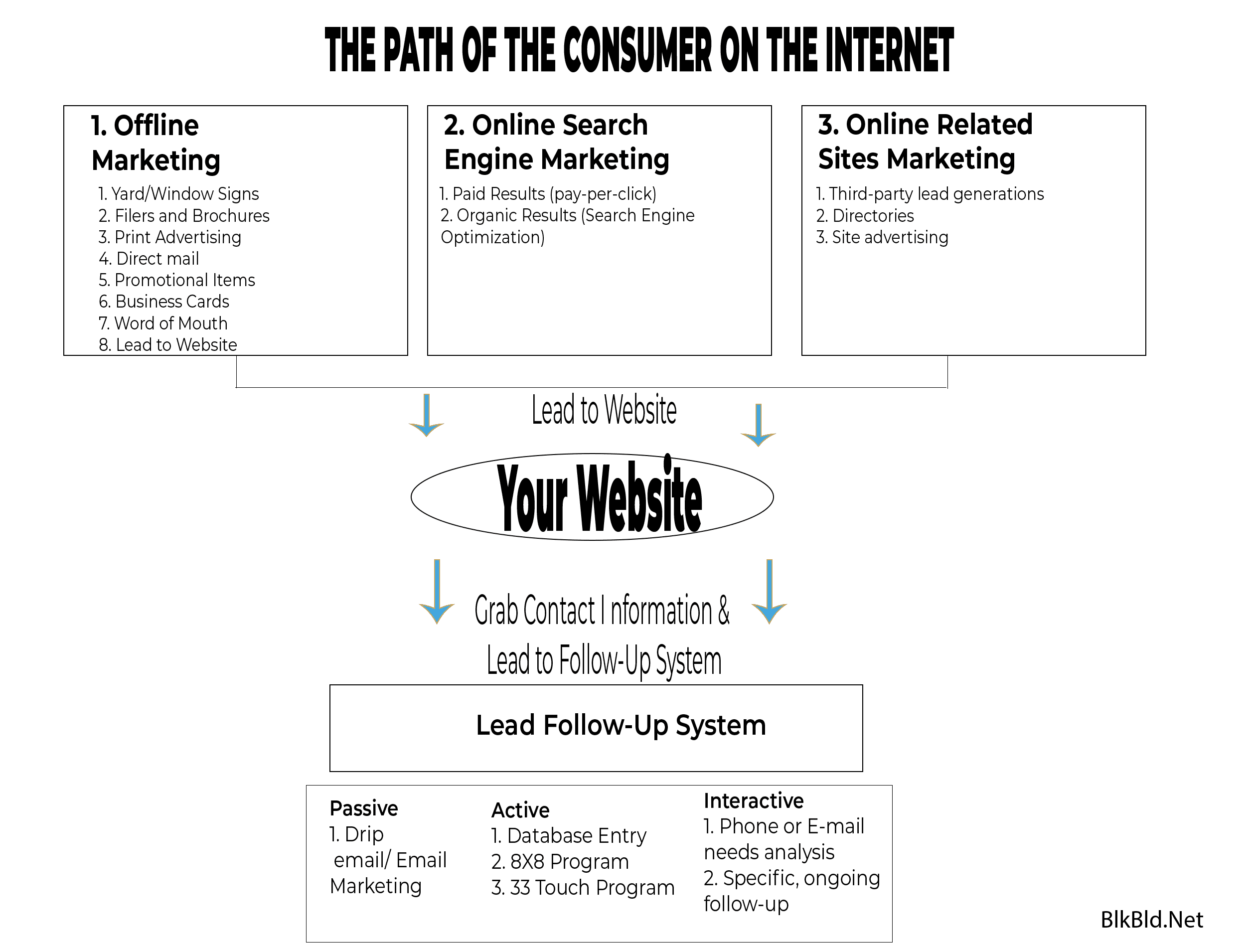 NEXT STEPS
At BlkBld.co, our boutique marketing agency developed website platform that helps business professionals build a their brand and grow their business online in a way that attracts their ideal clients.
Our website is made to give your prospects a User Centric experience, which means that it is all about how the website visitor is able to interact with your website and take actions that lead them to booking an appointment.
Get access to our social syndication tool to drive organic traffic. Be one of the first of this exclusive tool to be simply, social. Use your website to drive organic traffic automatically. Publish new listings, arrivals, articles etc…in just one click!
We continuously optimize our websites, so that you can get higher conversions month after month in order to grow your real estate business.
Plus, the backend of our websites are made for non-techy business professionals. With a video library to walk you through the process, and help whenever you need it you will have full control of your income producing website.
A BlkBld website comes with the tools and resources you need to help you grow your business!